News — christian tshirts
Posted by Jodan Lim on
Yes! We have made International Shipping Fees Cheaper now. Only at S$20 for up to $200 purchase. We would be using Singpost Airmail (registered post) for this service. Delivery would take 2 to 4 weeks.   Start shopping now~! Our overseas fans ~ Thank you for your patience and understanding all these while. Check out our trendy collections of Christian T-shirts, accessories and gifts now @ www.WowWow5.com   God bless!
Posted by Jodan Lim on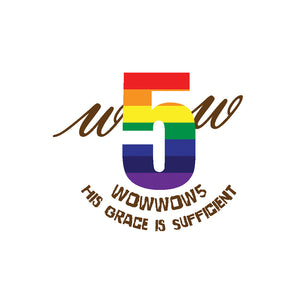 WowWow5 is a Singapore Christian Store Online for Christian Gifts, Christian Accessories and Christian T-shirts.   WHY WowWow5 ?? 5 is a number of Grace. We are so Wow by God's Grace that we hope that you will also Wow your loved ones with His Unmerited Grace each day.   Our Logo: Our Logo is in rainbow colors because we love how the rainbow reminds us of God's covenant of grace. We like everyone to be reminded how merciful our God is, and His promises to us, and His Unmerited Grace.   RAINBOW 5: The number 5 represents God's Grace;...